I will be your virtual assistant|$10 =Any virtual assistant needs for 2 hours. | 1 Day Delivery
Hi I'm Angela. I know how daunting it can be doing minuscule tasks for your business or job. Let me help make your life easier.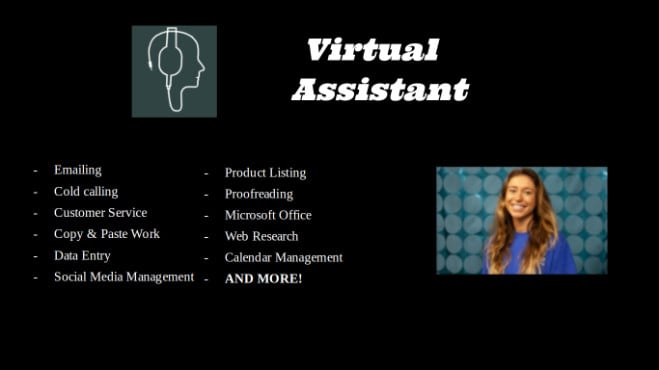 This includes:
- Emailing
- Customer Service
- Copy & paste work
- Data entry
- Microsoft office
- Social media management
- Listing of products
- Proofreading
- Web research
- Calendar management (appointment & meeting scheduling)
And more! 
Please let me know what else you will need, and I will happily provide that for you. Just make sure to send me a message before purchasing to make sure I can do the given task. I also provide unlimited revisions.
Note:
I work a day job during the week. Tuesdays are my busy day and I work 7 AM - around 7 PM, I cannot work on your order on Tuesdays, unless it is urgent. All of my work will be completed after my day job around 5 PM. If you need work done in the morning or early afternoon, I cannot do that. Please keep this in mind. Thank you!